My filtration performance isn't the same. What changed?
When a process does not perform as expected, asking the question "What changed" is the best place to start. For over 20 years we have been helping customers find the culprit in their filtration process when suddenly results go awry.
A robust, professionally designed filtration system will work the same way, every day, until something changes.
Intentional changes are easy to figure out, but what happens when something changes in the process and no one is aware until a batch is compromised? That's a critical point for process review and troubleshooting. Here are the top questions we ask in determining "what changed" so we can help get your operation back on track.
What changed in your process from last month to this month?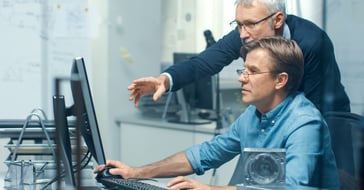 When new equipment is brought into the process, upstream or downstream, it can have surprising effects elsewhere in the operation. A simple change in operator schedules or even something as simple as a line break, even for a second, can introduce bacteria into the system that would require mitigating steps. No change, no matter how small, should be overlooked as you are investigating.
A true story about finding the cause of fouling at infrequent, random intervals.

A solid dose pharmaceuticals manufacturer was using a process that required elevated temperatures and solvents. The solvents attacked most membranes so the filters chosen were PTFE membrane filters in a single housing on a transfer line between an elevated temperature reaction vessel and downstream processes.

Filters were replaced after each batch and would become completely fouled at the beginning of new production shifts at infrequent, random intervals. The customer's process engineers, production and quality staff were unable to find any specific process changes that might cause the PTFE membrane filters to become fouled. Read the Case Study here.
Did a raw material supplier or specification change?
Not all raw materials are the same, even if their descriptions are. The only way to know if raw materials will behave in your process the same way the previous ones did is to test them. The results may lead to a change in your filtration system.
For example, if raw ingredient #1 (Raw 1) had a typical particle load of 10 ppm and a change was made to replace it with raw ingredient #2 (Raw 2) which had a particle load of 100 ppm, a prefilter may be needed to reduce Raw 2's particle count before final filtration. But if Raw 1 and Raw 2 were identical in every way, the performance of the filters would remain the same. Risk analysis should be performed for all changes of materials to determine whether testing is required, and if so, to what extent.
Specification changes make it a little easier to find the core issue, but not always as the story above points out. Anything that changes temperature, fluid amount, contaminant levels, and flow rates can be the culprit. Our customers find that when they "hit the wall" in their sleuthing, a new set of eyes can help find the root cause. That's when we get called and are happy to help.

And of course, our favorite question, "What changed about the filter?"
The reality is: filters don't change. At Critical Process Filtration, we take change control seriously, and our customers would know well ahead of time of a change that affected form, fit, or function.
We take this so seriously that if you were to take a filter manufactured by CPF 20 years ago and compared its performance with a filter from the same product line manufactured last week, you'd find they are equivalent. We know our customers demand consistent performance, and we go to great lengths to make sure our customer's requirements are met.
Many filter cartridge models follow an informal industry standard for sizing – a filter cartridge from Manufacturer A fits in Manufacturer B's housing, and vice versa. Because of these standard sizes and interchangeability, a change to a filter's dimensions is, simply put, not an option.
The same can be said about filter performance. The PES membrane used to manufacture Critical Process Filtration's sterilizing grade PPS filter cartridges is identical to the membrane used when we started over 20 years ago – and at all points in between. The same can be said for other leading filter manufacturers as well.
Application-specific, high-grade filters are subject to strict quality control requirements, with all aspects of the membrane's performance measured and monitored; from bacterial retention and bubble point to dirt holding capacity and flow rate, to manufacturability and finished product performance.
Making a change to any of the parameters, even improving upon some of them, could at worst wreak havoc on a customer's process, and at best lead to questions like: what changed with your filter?" For these products, nothing has changed. You would have to install a filter with a different part number for something to be different.
Alternately, general service filters meet quality standards but are not integrity tested or validated for retention so variation potential exists. General service filters are chosen to prefilter contaminants and protect the higher grade filters, or to remove large amounts of particulate when bacteria retention is not the goal. Your requirement for guaranteed consistency will determine the appropriate filter for your process.
This is not to say that we don't have new and improved products at Critical Process Filtration. We have new products for prefiltration, sterilizing filtration, and endotoxin removal. Our BCWPS and HLP products are on the cutting edge of prefiltration technology; our HPPS product offers some of the highest capacity of any sterilizing filter available on the market; and our GPC and PPC products offer a unique option for endotoxin removal, utilizing a proprietary charge-modified Polyethersulfone membrane.
These are new products that improve upon our original products and were designed to meet the requirements of an ever-evolving life sciences industry. We still manufacture our original products, the same way we did 20 years ago. With Critical Process Filtration as your filter supplier, you can be sure of consistent performance and on-time delivery, as well as new product innovations – though only when you're ready for change.
---
We'll make sure you get a robust, one-of-a-kind solution for your process.
(603) 880-4420