Filtration Process Development and Validation in Pharmaceuticals
DEVELOPMENT, SCALE-UP, AND VALIDATION OF PHARMACEUTICAL FILTRATION PROCESSES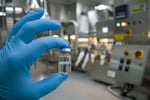 Our Technical Service Team performs application testing for a wide variety of fluids from water to complex chemical solutions. No matter what industry the customer is part of, we carefully document our test results and make recommendations based on those results. We get it right the first time.
For pharmaceutical applications, whether removing particles from ingredients entering the plant or sterilizing parenteral products, the testing, and documentation we routinely create help show the consistent performance required for the validation of the process.
While much of the validation documentation is presented in Validation Guides, especially for sterilizing grade filters, those tests only pre-qualify the filter from a biosafety and materials perspective. The most important testing is done while developing the actual filtration process. Those tests include chemical compatibility tests, leachables/extractables tests, and tests of fluid filterability to find the most effective series of filters - a series that delivers a fluid with the purity level required.
The Technical Service Team will work with the customer to create test plans and conduct tests that simulate operating conditions closely. This is done for all application tests, regardless of the industry, but it is a requirement for validating a pharmaceutical process. These tests are carried out at a laboratory scale using flat or encapsulated disc filters.
Examples of tests conducted as part of process development and validation documentation are:
Material Compatibility

Filter performance is not adversely affected by the fluid.
The fluid is not adversely affected by the filter and remains within the specifications

Leachable Identification and Quantification - Provided with a report Including

A list of all identified compounds, per analytic technique
Quantitative and semi-quantitative (screenings) results of the compounds food in the test article.

Prove Bacteria Retention is Customer Fluid (ASTM F838-05)

Establish Fluid-Based Integrity Test Specifications
An essential part of the documentation in support of the validation of a filter is the scale-up of the process from laboratory scale to larger bench scale, pilot scale, and finally full production. As the filters increase in size, the media may stay the same, but the other materials used for media support and filter structure might change. Even a slight change in the grade of polypropylene polymer commonly used for filter cages and cores can cause unexpected changes in leachables and extractables. For that reason, Critical Process Filtration uses the same materials for cage, core, and media support for all sizes of filter devices.
Learn more about our process by downloading our document on Filter Validation Support.
For more on filters from Critical Process Filtration, visit our Filtration in Life Science web pages.